Mobile Desks
EXHIBITIONS, OFFICE, SEMINARS: HIRE or BUY
A perfect flexible solution! Mobile Desks are so easy to move with four hard floor castors, for smooth relocating, but all individually lockable for safety. This mobile desk can be wherever you need it to be. Add some of our fantastic lightweight desk partitions and you've got yourself instant workstation too.
Benefits Of Using Mobile Desks
Which should never produce the impact these aren't useful products during terms of cost the tables are incredibly inexpensive. A portable computer desk could make your lifetime definitely better when it comes to freedom, freedom and interior decor.
The main advantages of using portable computer tables are outlined in the following link: Click HERE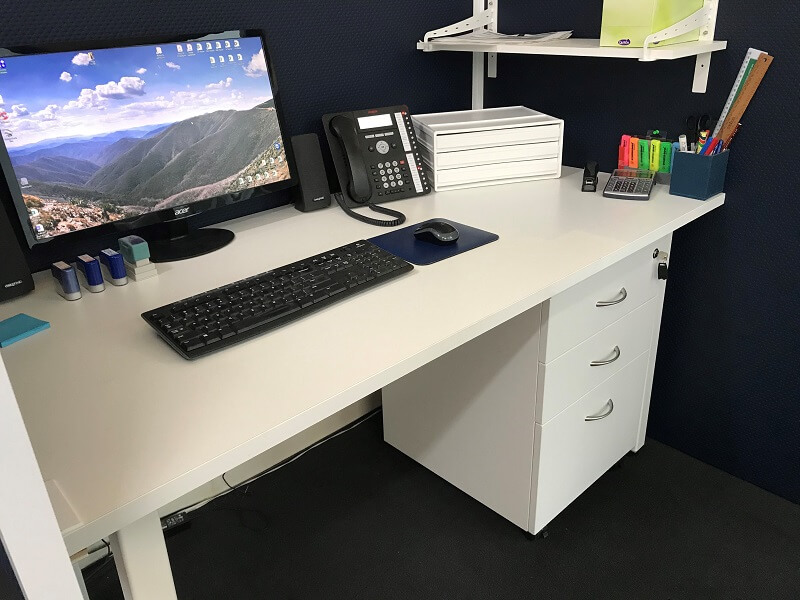 Key Benefits
Key Benefits:
Australian Made
Hard floor castors, for smooth relocating.
All four castors lockable.
Aluminium frame.
Powder Coated, Textured White.
Hard wearing Melamine with ABS edging.
5 year Warranty.
Dimensions
1500mm Wide x 750mm Deep
Desk Height: 795mm
Top Thickness: 25mm
Leg Thickness: 50mm x 50mm
Lightweight: 20kg only
For more information send us an email at info@skpartitions.com.au or call Stefan on 1300134009.